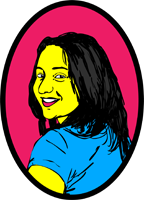 Nicole Prowell is an independent documentary filmmaker living in Boston. She is currently pursuing her MFA in Experimental Documentary at Emerson College, where she completed her MA in Documentary Video in 2008. In addition, Nicole has studied filmmaking at FAMU in Prague, where she produced a short fictional narrative piece about the westernization of Eastern European culture.
Prior to moving to Boston, Nicole worked in New York for IBM and for the Jacob Burns Film Center, a non-profit art house focused on promoting visual media literacy. Nicole has also worked as a Media Production Manager at Nextlab in the MIT Media Lab, where she travelled to the Philippines to film a documentary about a mobile diagnostics project. Her recent projects include a personal documentary about traveling across the country in search of happiness, entitled Happy Hunting, which screened at the 2009 Emerson Film Festival in LA and at the 2009 New Hampshire Film Festival.
Nicole is a Board member of Women in Film & Video/New England and a member of Connect the Docs.