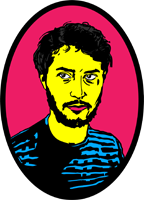 Max Wagenblass is a narrative and documentary filmmaker who began shooting and editing digital video at the age of 13. Since then, he has closely followed the advancements in video technology to appreciate the medium's flexibility for experimentation. He completed his B.A. in Visual and Media Arts at Emerson College.
Max has worked for clients at the MIT Media Lab and the RFK Memorial. His personal work focuses on the psychological impact of media and the aesthetics of alternative production techniques. He has screened in the Czech Republic at the Pisek International Student Film Festival, the Rochester International Film Festival, and the Woods Hole Film Festival.
As a hobby, Max also enjoys writing and illustrating children's books.