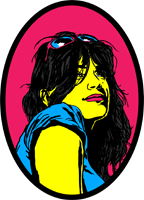 Luisa
is a documentary and experimental filmmaker with
an interest in how different types of media proliferate
in our culture. She has worked as a freelance editor in
independent film (Enlighten Up!) and as a documentary
filmmaker for various non-profit organizations in the
Boston area.
Luisa earned her MA in Visual Media Arts from Emerson College,
where she focused on documentary and experimental filmmaking.
Prior to that, she worked in the publishing industry with New
York Magazine and Random House, Inc. She holds a BA in English
Literature and Creative Writing from Bennington College.