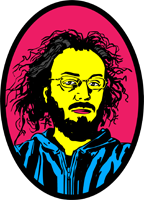 Luis Blackaller has a multidisciplinary background that covers aspects of entertainment, science, design, art and visual storytelling. He earned a BS with honors as a mathematician in the UNAM, and has been trained as an animator in the Vancouver Film School.
With more than 10 years of experience in the Mexican film and television industry, Luis has worked as a designer, art director, motion graphics artist and storyboard artist among academy award winners in films like Amores Perros and Babel.
In 2008, Luis earned a MS from the MIT Media Lab under the mentorship of John Maeda, where he explored online creative social systems and their relationship with artistic expression and communication.
After graduating from MIT, Luis worked as a Producer and Creative Director for the Next Billion Network at the MIT Media Lab, where he designed and supervised the execution of alternative strategies of communication and promotion of research, directing a team of documentary videographers and web developers for more than a year.
Luis has a big cranium that can only be matched by the size of his imagination.