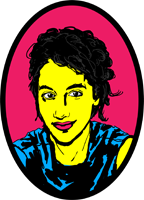 Liz Jones is a writer, producer and photographer with Fantastic Soup. She has freelanced as a production assistant, coordinator, researcher and videographer in independent film, television, and educational media production in the Boston area for the past four years. Her credits include programming for PBS (American Experience, Design Squad, NOVA scienceNow) and HGTV (Property Virgins).
Liz received her MA in Film and Video production from Emerson College in 2007, focusing in documentary and experimental film, and her BA in English Literature and Creative Writing from Bryn Mawr College.
Her interests are in cinematography, alternative storytelling and rock and roll music.